KOLKATA: Indian cinema has lost one of its icons with the disappearance of Tarun Mazumdar at the SSKM on Monday. The four-time National Award winner, Padma Shri recipient and Filmfare Lifetime Achievement Award winner was 91.
Most moviegoers believe his passing marks the end of an era steeped in the legacy of Bimal Roy, Debaki Bose, Pramathesh Barua and 1950s arthouse cinema characterized by literary adaptations.
Chief Minister Mamata Banerjee said he left behind a legacy of popular social cinema that reflected refined taste with different genres. veteran actress Sandhya Roy told TOI, "As an artist, I could have talked about his works. But I am his wife and it is difficult for me to elaborate on the merits of my husband as a filmmaker on the day of his death. I ask everyone to pray for their soul. The veteran director suffered from kidney failure.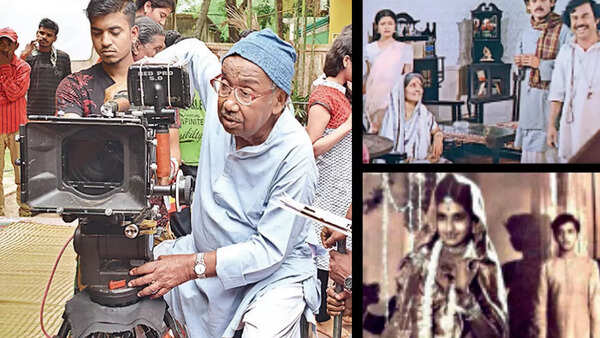 One of Mazumdar's early influences was Charlie Chaplin. He had watched many Chaplin films in Bogra, Bangladesh where he was born in 1931 before migrating to Kolkata to complete his education at Scottish Church College. Mazumdar was touched by the way Chaplin's films made people cry while laughing and laugh while crying. On a very subconscious level, it was the same impact he hoped his own cinema would leave.
In the early 1950s, he had the opportunity to join the camera department of Ardhendu Mukherjee's 'Sanket' (1951) which was then filmed at Rupasree Studio. But luck ran out and he was shown the door to unity. Through his uncle, Mazumdar's association with the film world remained as an advertising designer. Devaki Bose once accidentally saw Mazumdar's innovative advertising design for 'Pathik' (1953) and loved it. So impressed was Kanan Devi with her designs for her productions like 'Mejdidi' and 'Nababidhan' that she offered him apprenticeship work for her production house – Sreemati Pictures.
When 'Pather Panchali' came out, Mazumdar, along with 11 friends, was part of a procession. He wore hand-drawn posters with "alta" on newsprint asking people to watch Ray's movie. This was before he formed the Yatrik collective with Sachin Mukherji and Dilip Mukherji. Their first work dates back to 1959. Viewers were struck by Suchitra-Uttam's 'Chaowa Pawa'. Building on its success, the team produced 'Smriti Tuku Thaak' (1960) with Suchitra Sen in a dual role and 'Kancher Swarga' (1962), winner of the President's Award. Chhabi Biswas, who had starred in all three, liked the last film so much that he personally asked Mazumdar to cast it if he had a good role.
The following year saw the release of 'Palatak'. Much to the trepidation of many, Mazumdar was determined to choose Anup Kumar, who was known for his comedies, as his hero. An anonymous letter from a supporter was sent to Mumbai-based producer V. Shantaram asking him to reconsider his decision to produce "Palatak". However, nothing could prevent the making of the film. A song from 'Palatak' – 'Mon je amar kemon kemon kore' – was a huge hit.
By then, cracks had appeared within Yatrik as Dilip Mukherjee got busy as an actor and Sachin Mukherjee became keen to explore freelance directorial opportunities. Still, Mazumdar objected to Shantaram's proposal to take solo credit for the film. But this effort could not prevent Yatrik from disbanding in 1965.
'Palatak' was remade in Hindi as 'Rahgir' with Biswajit play the main role. Seven-year-old Prosenjit Chatterjee had played his younger version. Describing him as a "really capable director," Biswajit said, "I did five/six movies with him. I even attended his wedding with Sandhya. When he cast me for 'Rahgir', I was a very busy actor commuting between Mumbai, Kolkata and Chennai. Tanu- baboo agreed to smash my glamorous image of a romantic hero swinging a guitar. I accepted his only condition of surrendering to him. He asked me to sit outside in the heat with the extras so I got a deep tan. He asked the makeup artist not to touch up my face. He made me wear shabby dresses. Soon he transformed me both mentally and physically.
During his time in Mumbai, Mazumdar was introduced to Bimal Roy. At the latter's office, he met Gulzar who was then assisting Roy. His first release as an independent director was "Alor Pipasa" (1965) with Sandhya Ray and Basanta Chowdhury. Kaifi Azmi wrote the lyrics. Mazumdar has never looked back since.
Director Anik Dutta, who is currently at Oxford, said: "He was the last of the Mohicans. He lived without compromise. I'm extremely lucky that he came to see my movie, "Aparajito", in a cinema and praised it a lot. Before leaving for the UK release of my film, I visited him when he was at the SSKM. Once back, I will pay homage to him not only through retrospectives but through my work.
A "keeper" for Goutam Ghose"a teacher" for Prosenjit Chatterjee and "an institution" for Rituparna Sengupta, Mazumdar was called the monarch of love by his fans. But his filmography reveals that he was much more than that. The patches of green, the rows of palm trees lining the horizon – the rural scenes in his films evoked a sense of nostalgia about old-world family ties in a Bengali home. Through his trademark style of weaving plots around the Bengali middle class family of the town, city or remote village, their small joys, sorrows and togetherness, he has carved a niche for himself despite pillars like Satyajit Ray, Ritwik Ghatak, Mrinal Sen and Tapan. Sinha like his contemporaries. Suchitra Sen acted in two of her films. "His films represented an age of innocence in storytelling where dramatic conflicts emerged when the world was viewed through a simple prism of deep humanism," the director said. Atanu Ghosh.
The romantic musical "Balika Badhu" (1967) revitalized the genre of rustic lyrical melodrama. It also marked the debut of another Mazumdar find – Moushumi Chatterjee – who went from schoolgirl Indira Chatterjee to Rajni of 'Balika Badhu'. "He gave my screen name of Debosree Roy," the actress said.
Mazumdar's films played a significant role in shaping many people's early careers, including Tapas Pal, Mahua Roychowdhury, and Ayan Banerjee. Although he was a strong supporter of left-wing politics, his films did not become propagandistic. "He made films of two gharanas – realistic and romantic. He deliberately did not want to make his films intellectual. On the contrary, it bridged the gap between thought-provoking cinema and popular cinema. In many of our discussions, he asked us not to make films that would have a negative impact on society and viewers. Little Tollywood Directors understood and used Tagore's songs like Mazumdar did in 'Phuleswari, 'Nimantran', 'Chander Bari' and 'Alo'," director Kamaleswar Mukherjee said. Not only Tagorehe also used songs by Atulprasad Sen and Dwijendralal Roy effectively.
His use of songs was talked about even when he redid "Balika Badhu" in Hindi. 'Bade achhe lagte hai' – an Amit Kumar song from this Hindi film remains an all time favorite till date. The only national prize won by Hemanta Mukhopadhyay was for reading his Nimantran (1971).
In the same year, he also directed the hit thriller "Kuheli". His fans also remember his 'Sriman Prithiwiraj' (1973), 'Thagini' (1974), 'Ganadebata' (1979) and 'Pathbhola' (1986). Phuleshwari (1974) sparked renewed interest in the theme of the urban-rural divide. He changed genre for "Sansar Simante" (1975) scripted by Rajen Tarafdar and even made the sets for it in the premises of the New Theatres. 'Dadar Kirti' (1980), another hugely popular film, explored a moral conflict.
In his later years, his writing skills and ability to lucidly tell stories of the town of tinsel attracted attention. He also consented to be the subject of Shatarup Ghosh's documentary titled "Jibonpurer Pothik". Biswajit said he spoke to Mazumdar last month. "Someone told me he wanted to talk to me. I called him. He picked up the phone himself and said he was indeed looking for me. He then shared that a documentary was being made about him and the team wanted my feedback on it. I was more than willing to help. He told me that the team would come to Mumbai in June to shoot it.
Just a month before falling ill, Mazumdar set out to find locations in Belpahari for his next film. In a conversation with TOI during the pandemic, he had mentioned wanting to emphasize his tried-and-true narrative form and how he's always used music for his next film. The red earth fascinated him. "I'm trying to find the smell and the feeling of this stretch," he said. With his passing, that dream will sadly remain unfulfilled.