In 2018, Ukrainian luthier Orest Putsentela was featured in The Strad's "My Space" section. Last March, at the start of the war in Ukraine, he took stock of his situation in Lviv, in the west of the country. Now, six months later, it provides a new update
Over the past six months, a total of more than 500,000 refugees have settled in Lviv. Hotels, motels, schools, gymnasiums, etc. are overcrowded. Back home, we had 22 temporarily displaced from Donetsk, in the east of the country, every day for the first four months of the war. We did our best to make them feel at home: in 2014 their house was confiscated for the first time and they moved to Kyiv. They were therefore forced to leave their home for the second time in eight years.
We also had refugee cats Tom, Easy and the dog Nilsson. After a month of war, pet food was running out of stores, so we had to organize deliveries from Poland. Sometimes it is not easy because the Post Office does not serve ordinary people, only delivering humanitarian goods. So we tried to cooperate with private bus drivers to deliver this cargo. Things have worked well so far, and it looks like Swiss Post will soon be working for us again (at least partially).
My uncle Zinovy ​​periodically transports Ukrainian refugees to the Polish or Hungarian border in his own car. It also becomes a difficult task as civilians are only allowed to put 20 liters of fuel in their car each time, and at a much higher price (queues at gas stations are endless). As a result, our mobility is significantly reduced.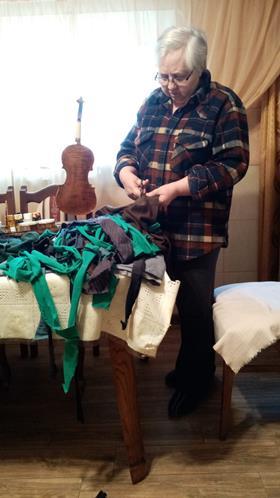 In general, the cost of food has increased significantly and there are fewer and fewer products in stores, but basic necessities remain. We hope that the war will end before the west of the country suffers a humanitarian catastrophe, because we are now acting as a reliable rear to support the front. Meanwhile, my parents are trying to help the army by making strips of fabric to weave camouflage nets. The benefits of such activity are that it calms the nerves.
In addition, we receive daily messages from our friends and volunteers about the current needs of the army, and we do everything we can to help financially or through personal involvement in the process. We often receive information from Ukrainian allies about providing assistance to the army, but this still does not cover all their needs. About a month ago, ordinary Ukrainians raised funds across the country for three Turkish Bayraktar combat drones for our army. As the company that manufactures these combat drones gives them to us for free, a satellite for Ukrainian army intelligence was purchased with the funds raised, which amount to around £13 million. We are all proud to be part of this project for our victory.
Our children had to change schools to be closer to home. As parents of schoolchildren, we also participated in setting up the school's bomb shelter with funds and physical labor (filling bags with sand). This happened in all schools in Ukraine where there is no war. It is mainly provided by the parents of pupils because the State has no resources for this. According to the government order, education in schools is only possible where there are reliable bomb shelters. Although personally, I would be very happy if our children continued to study online, as was the case at the beginning of the war and during the pandemic. It would be much safer that way.
By the way, the pandemic in our country ended on February 24 – as if carried away by the wind! Is Covid afraid of missiles? It would be funny if it weren't so sad. (Of course there is Covid in Ukraine, but we don't have time to think about it.)
At the start of the war, I made two videos/slideshows to draw the world's attention to the war. I have now made two more videos, one being a call to big business ("Are you still funding the Russian military?") – using photos of the destruction in Mariupol as well as music composed and performed by me. The second was a video to cheer up – (Lullaby for the Russian Tanks) with photos of destroyed tanks on Ukrainian territory. I also played my arrangement of a well-known Russian lullaby on the piano. I was happy to see that it made the Russians very angry, because of the music and the pictures of their destroyed tanks.
Between the sounds of overhead alarms (we heard three today), we try to keep making violins purely for art and stress relief. Since in Ukraine we live hand to mouth, we want to do a lot of things that remind us of our peacetime lives. For me, realizing (and perfecting) my idea for a new type of shoulder rest (violin and viola) has become so suffocating, it always felt like the wrong time for it – but now I get it that there may not be another possibility. So I changed the model I had previously developed and added a baroque f-hole to it. So now my shoulder rest is acoustic (hollow) – and therefore affects the overall sound of the violin and viola most positively. I could be wrong, but it seems to be the first shoulder rest with such an idea.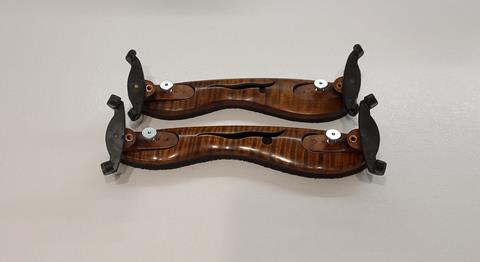 We hope that very soon we will stop thinking about how to win the war and survive, and move on to the stage of the great reconstruction of the country after the terrible destruction. And, of course, violin making at full speed. But we're not even close to that.